60% Off Children's Footwear From £8 Delivered (With Code) @ Hi-Tec Sports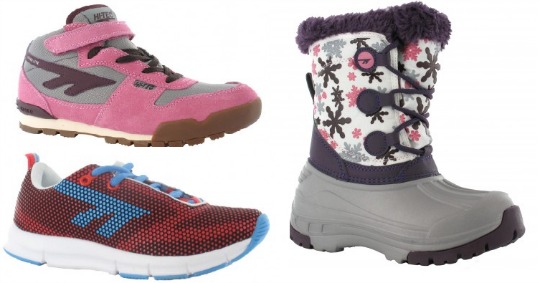 Hi-Tec are a famous British made brand of footwear deemed so reliable that it has been used in the British Forces in the past. If you wondered what they are like, then now is your chance. Get 60% off ANY FULL PRICED children's footwear, when you enter the discount code ww60 at the checkout. Prices start at the £8 mark, when you use the code, and delivery is FREE. Now that is fantastic value for money.
I know as well as anyone else that kids go through shoes like it's nobody's business. Whether they wear them out or their feet grow fast, it's a frequent, costly affair. Head over to Hi-Tec and you can get a right bargain, that will do the same job as any other shoe at the price of a supermarket budget pair.
I have picked a pair of boots, a pair of trainers and a pair of snow boots, to highlight what a bargain you can get from the Hi-Tec site. Firstly, the Sierra Light Original Waterproof Junior Kids Boots* are £39.99, but use the discount code and you can get them for £16 delivered. Secondly, the Cornice Junior Snow Boots* are £29.99, with the code only £12 delivered. That is insanely cheap. Thirdly, the Illusion Kids Trainers* are £34.99 but use the code and they are just £14 with FREE delivery.
Why not check out our vouchers section where you can find discount codes for many retailers.