Pressman Smurfs Jigsaw Puzzle £1.73 @ Amazon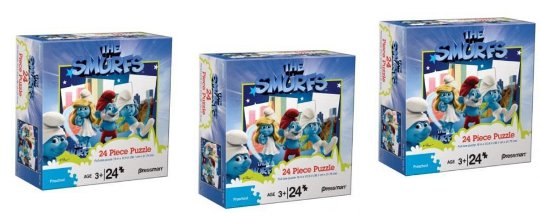 Amazon have a half price offer on this cute Smurfs puzzle from Pressman, which they're selling at £1.73 instead of £3.49. The offer, of course, includes free delivery, so it's a lovely price for a little something to put away for the predicted rainy May days!
This Pressman Smurfs jigsaw puzzle is a 24-piec puzzle, suitable for ages 3 and above. It has a built size of 38.1cm by 31.75cm and will be lots of fun for both a puzzle lover and a Smurf lover.
Kids are pretty amazing, actually, especially when their capabilities far exceed our expectations of them. We were in a playgroup last week where my two year old was happily building a 16-piece puzzle aimed at the 3+ crowd. She needed a bit of guidance with the middle pieces, but trial and error on her side and she accomplished it, and proudly so!
Reviewers say the box is very small, which I must admit makes it even more desirable in my book – who really needs additional space taken up if it's not necessary!
Happy rainy day puzzling!
Thanks to wishihadadonkey @ HUKD