My First JCB Floor Puzzle £3.99 @ Amazon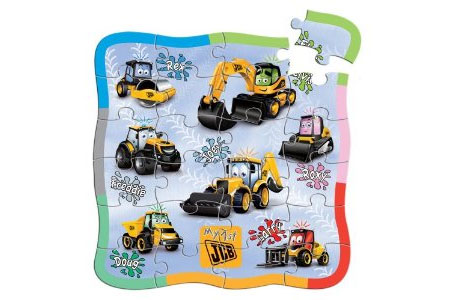 And there was me thinking that my youngest son had everything JCB there was to have, when up pops this My First JCB floor puzzle on sale with Amazon for £3.99 instead of £9.99.
I can't remember what triggered his love for JCBs but he could say Joseph Cyril Bamford from two  years old, and took great delight in asking people if THEY knew what JCB stood for.
He has a draw full of the yellow diggers and can tell you the difference between front loaders and back hoes and all sorts of JCB malarkey, but he never had a JCB floor puzzle.
He'll be five in just over a week and I'm rather disappointed he's too old for this JCB floor puzzle now, he would have loved it and I would have loved watching him work out where all the pieces were supposed to go.
Puzzles have to be right up there on my top 10 list of favourite toys; they're fun, they help to develop fine motor skills in young kids and pattern recognition, they are said to boost brain power AND they don't require batteries, make silly sounds or have flashing lights.
This JCB floor puzzle isn't an Amazon 'Deal of the Week' so it's price may go up (or down) if whatever causes their prices to fluctuate happens...like, just because they feel like it.
Thanks to lostboybinns at HUKD