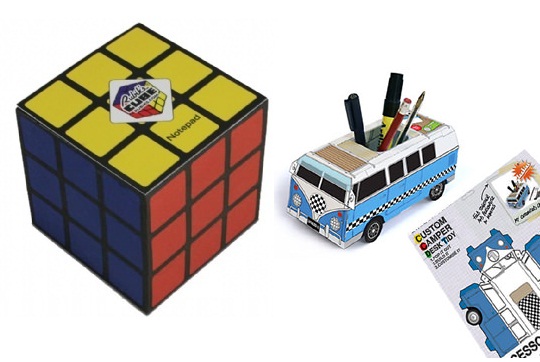 Online retailer Find Me A Gift specialises in all those little unusual types of items that you used to find in odd nooks and crannies on the high street. Quirky stationary, odd gadgets, fun items. You know the sort of thing I mean.
We hadn't really thought of them when it came to back to school stuff though, so it was a bit of a surprise when they suggested sending us a few items. Why not?
Well, they were right. There's room for fun and quirky, without paying over the odds in a posh stationary shop, when it comes to stocking up for the children's return to school.
The site sent us a Rubik's Cube notepaper stack, a packet of novelty erasers, and a pop-out and put together yourself desk tidy in the shape of a VW Beetle van. Here's what I thought.
Rubik's Cube Notepad
I'm not entirely sure how this fits into the Back to School theme. To me, something like the Rubik's Cube Notepad (£4.99) is what you have next to the phone to jot down messages.
Turns out I was wrong. My 7 year old son grabbed this right out the box and immediately claimed it as his own. He loved the novelty of it looking like a Rubik's Cube, and he seemed really taken with it being a stack of paper. Since then it has had pride of place on his shelf where all his paper, card, and sketchbooks are. He uses it to make notes to himself, and to me, on just about everything. So I'd say it was a big hit.
The Rubik's Cube Notepad measures approximately 10 cm x 10 cm x 10 cm.
Pros: looks like a Rubik's cube, fab!
Cons: apart from odd 7 year olds like my son I'm not sure it has a direct school application
Overall verdict: 6/10
Camper Van Desk Tidy
The Camper Van Desk Tidy is a flat pack cardboard pen holder that looks like a camper van. It looks pretty much like a traditional VW camper van, just without the logo.
You pop out the van, and put it together yourself. This is pretty easy and our 12 year old tester didn't have any trouble with it. There's a different variety of stickers to put on and again, this kept her busy for 10 minutes at any rate.
Our tester loved the van, and thought it looked cute. She was a bit disappointed that there wasn't more space where the pens go, given the size of the campervan. It isn't made of terribly stiff cardboard though, so this is probably a build issue. The van felt sturdy enough, and looked good sat on her desk in her room with her big, fluffy pens sticking out.
Unfortunately I have to report its demise. RIP camper van desk tidy. The makers made it to withstand most things you might find in a teenager's bedroom, but not the teen's brother deciding to use his sister's room for basketball practice on one of the many, many rainy days we've had this summer.
Pros: looks good, and is fun to put together
Cons: won't withstand a direct hit from a basketball
Overall verdict: 8/10
Scented Eraser 5 Pack
Finally, we got a rather cute pack of erasers. The Scented Eraser 5 Pack (£2.99) is a group of erasers with a variety of scents packaged in little boxes like drinks boxes. There was grape, chocolate, mixed fruit juice, strawberry and milk.
I thought the erasers were a lot smaller than I was expecting - they're quite loosely packaged inside the boxes. However, my tester and her friends were so taken by these that I don't think they'd have noticed what size they were. Or indeed if they were any good as erasers at all. They seemed to spend most of the time smelling them. My tester commented that "It's really handy to have them in the boxes, then you can keep them in your pencil case and the rubber won't get mucky." She, and her friends, loved having scented stationary because, apparently, it makes your day a bit happier if your pencil case smells nice.
Pros: great novelty value, good price
Cons: smaller than I expected, and I thought they'd have a stronger scent
Overall verdict: 7/10