BOGOF Disney DVD and Blu-rays @ Play.com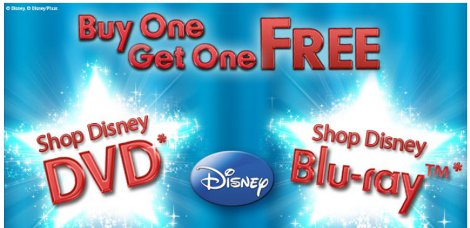 There's a BOGOF offer on Disney DVDs and Blu-rays at Play.com at the moment. The offer ends on the 1st of May 2011
There are 31 titles available in the DVD section, including both classics and modern movies, such as:
These will cost you £12.49 for two, and postage is free.
In the Blu-ray department, you'll find many of the same, including
And 22 other options. The Blu-rays are £16.49 for two, and postage is also free.
While it's worth making sure that the ones you select are the cheapest prices before you buy, you'll find that Dumbo: Special Edition , for example, is £12.49 at Amazon, so getting another free is rather good.
Buy one get one free cannot be used with any other offer. You also can't mix DVDs and Blu-Ray, so have to go for one or the other.