Vosene Kids Advanced Conditioning Defence Spray Head Lice Repellent Review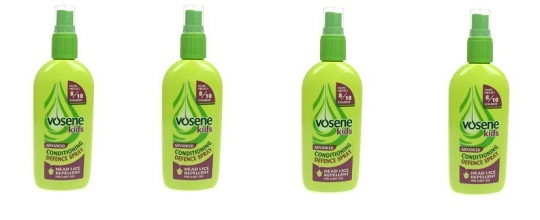 That certainly is a mouthful isn't it? Well, the Vosene Kids anti-lice conditioning spray may have the longest product name in anti-nit defence circles, but it is the best. I am writing this review after using Vosene for three years. Three years of testing on long, fine hair that catches lice from passing children like a web catches passing flies.
I have had three lice outbreaks since using Vosene. Each time it was because I had run out of the stuff and my daughter had not had her hair smothered in Vosene before she left for school. Then I spent an entire year of using the spray and the shampoo without fail, and we have not had a single outbreak since.
Not only does the Vosene Kids Conditioning Defence Spray actually seem to repel the ghastly lice effectively, but it does a halfway decent job of conditioning the hair too. My daughter has very fine and curly hair that's now down to her waist. It is tough to brush every day and really tough to keep in decent condition because she is at swimming or running in the rain or jumping between toasty warm heating and freezing cold outdoors. Hair suffers.
Now I cannot say that the Vosene Kids Conditioning Defence Spray is better than other conditioning sprays. It isn't. I have compared it to other types and it doesn't condition the hair as well, leaving it a bit dry with a faintly sticky texture. In my world this is a fair price to pay for the fact that it detangles and keeps lice at bay.
It gets an easy 9 out of 10 for price (less than £2 on Amazon* at the moment), defending your child against the lice horde and adding some conditioning shine and detangling action. It loses points for the sticky texture and the smell.