The Sistema Slimline Quaddie Lunchbox Review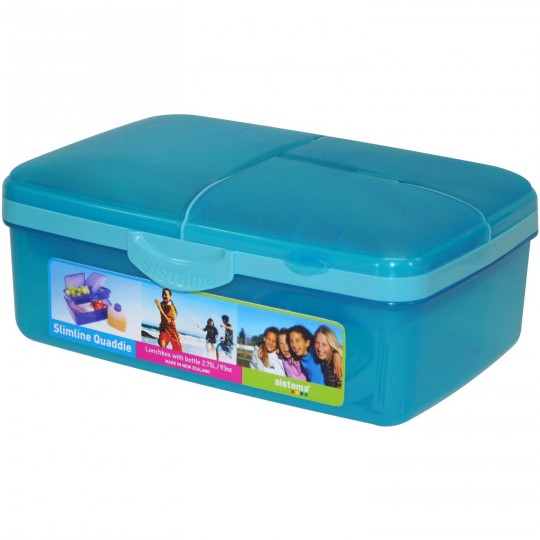 Ever since my daughter started school I've been on the hunt for the perfect lunchbox. It can't be too big, or she won't be able to carry it, it can't be too small, or you won't be able to fit anything healthy inside it. So I thought I was onto a Good Thing when I saw the Sistema Slimline Quaddie lunchbox on sale on Amazon* the other day.
This Sistema lunchbox isn't too big and it offers you four compartments of varying sizes to slot things into. On the top of the box (which comes in pink or blue with the latter on sale at the moment) you will find three compartments. Two quarter sizes which can fit a snack bar, or raisins or other easy little snacks for a quick energy boost, and one half size that fits a sandwich.
The main body of the Sistema lunchbox is roomy enough to put in a sandwich Tupperware container along with juice and other lunchy bits and pieces. What it cannot do is house a yoghurt pot or an apple. This drops the points on this lunchbox down considerably. How can you have a lunchbox with no compartment big enough for a small yoghurt or an apple?
Obviously you can resort to slicing your apple up and slotting it into one of the top compartments, but there is no way of fitting in that yoghurt. It is also worth mentioning that the Sistema lunchbox has a juice flask that comes with it – this fits perfectly into the half compartment on the top. It's very handy as extra liquid for thirsty kids.
You can wash it in the dishwasher, it can be microwaved and it is compact enough to be easy for kids to carry. I give this product a hefty 9/10 – it only costs £5!